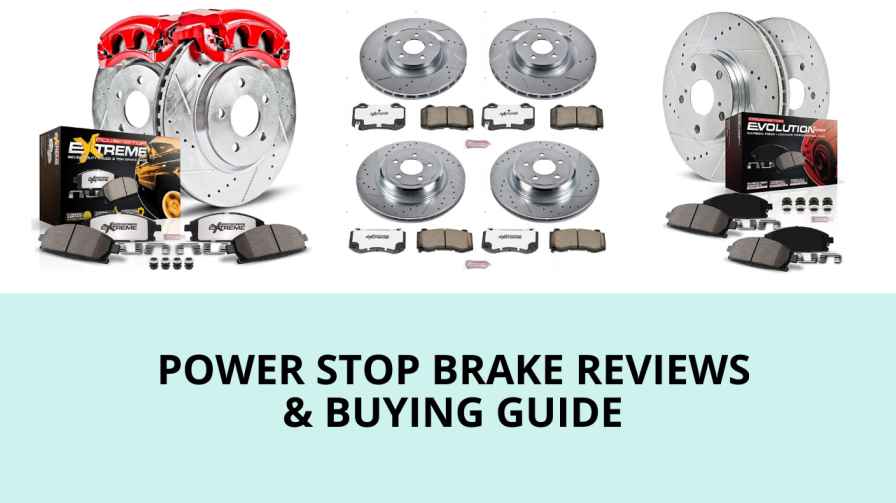 Power Stop is a renowned name in the world of the automotive industry thanks to its revolutionary brake kits and other quality products. There is a significant improvement shown by the company since its foundation in 1995. The catalog of this brand includes a range of equipment from sensor wires to brake pads & even rotors. We are pretty assured that you must be aware of positive Power Stop brake reviews all over the internet as the people are pleased with its performance. 
About the Power Stop brand
Power Stop brand is a well-known name in the world of the braking system founded in 1995. The corporate headquarters of this brand is situated in Bedford Park, Illinois from where they serve consumers all over the world. There is distinctive sort of accessories manufactured by this brand that include sensor wires, brake pads, rotor kits, calipers, and lots of other braking systems. These components fit in many different vehicles like SUVs, cars, trucks, utility vehicles, and duty trucks. 
The total revenue produced by the company is in millions of dollars that prove how popular they are among the community. This brand sells its units through both retail stores as well as online platforms. It is one of the few platforms that have upgraded themselves according to the latest trends. You will find very few people who question the authenticity of this company in any manner.
Which are the top 7 best Power Stop brakes in 2023?
No matter what kind of driver you are, this company has something for everyone. Finding a performance brake from their catalog won't be a difficult task in any manner if you have the right knowledge. This post is going to tell you about many exciting things about this company along with its high-quality products. Stay with us until the end of ensuring that nothing gets skipped from your mind. Let's first talk about the top 7 best Power Stop brakes that you can buy in 2023. All of them are added after a tough testing process for ensuring the authenticity of these high-quality products. 
The list is going to begin with the Z36 model that can effectively handle the towing & hauling stress with ease. These pads are a very trustworthy option for people who want a brake pad that serve their vehicle for many years to come. No matter what conditions you drive, this unit won't disappoint in any manner. There is a very reliable carbon-fiber ceramic material that boosts the capability and stability to a different level. It can handle massive loads without causing too much noise and disturbing others.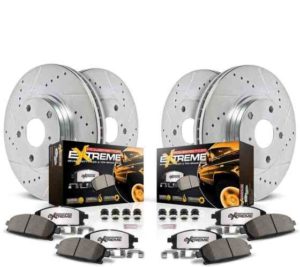 There are fully précised drilled holes on the rotors that make sure the temperature stays down even if you are driving under high-temperature conditions. That's not all; it comes with exceptionally performed rounded slots that ensure the debris and gas stay away from the braking system.  The manufacturer has used rotors using top-quality G300 metallurgy that helps in keeping away dust and noise. In simple words, you will be succeeded in enjoying an improvement in the overall system of the vehicle allowing you to drive with ease. 
Furthermore, it has silver-zinc dichromate plating whose main job is to prevent corrosion and rust as much as possible. The pads available in the kit are very safe to use and provide instant stopping. There are double-layered rubberized shims available on the kit using which noise stays away from the brakes providing a comfortable & silent experience. Considering all these features, we recommend shopping for this kit if you are looking to find the best option from the Power Brake Company. 
Pros
A perfect example of the latest engineering techniques

Provide smooth & silent braking 

Made using highly reliable material

Capable of tackling with extreme temperature

Cons
The kit doesn't have brake calipers

Minor issues about rotors warping after 10,000 miles
If you ask us to recommend the second best brake set created by the Power Stop brand, then there won't be a better option than the K2164 that will let you increase braking power without compromising with drivability in any manner. It has high-quality ceramic pads that allow you to have up to 20% extra stopping power when compared with other options available in the market. There is a highly convincing testing approach employed by this company before delivering noise-free braking power.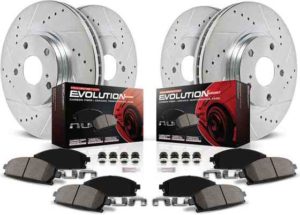 The Power Stop brake reviews about this product are pretty positive thanks to the superb power and durability. It has a dust-free friction formula that keeps the corrosion and rust away from the system. The calipers delivered with the kit have hardware, pins, and bleeder screws for extra convenience. They are 100% pressure-tested by the company for ensuring quality performance in the end. On top of that, there is a perfect OEM fitting guaranteed with this kit thanks to fully précised machine technology used by the manufacturer. 
We all know that the brake temperatures increase while driving on harsh roads. However, the presence of high-grade casting drilled and slotted rotors make sure things stay cool during those times. Another good thing about this kit is you will get all these features without sacrificing drivability and performance. Investing in this brake kit is a very brilliant idea that you can do for now. 
Pros
Provide noise-free braking performance

Equipped with easy to install components

Powder coating plates for extra protection from corrosion & rust

Precisely designed rotors

Cons
Very costly to buy

Slight questions about longevity by some buyers
Equipped with superb carbon-fiber ceramic formula, this kit is designed for catering to the needs of people who love driving on extreme roads. Trust us; you are going to fall in love with the performance of K3167 and recommend it to individuals in your family & friends. It has dust-free construction having a high sort of accessories like stainless steel shims, zinc plated rotors, and ceramic brake lubricant. Additionally, you will get a high-quality stainless steel hardware kit with this package for making the installation process easier. The company also adds red powder coated calipers in the brake package for the extra convenience of the buyers.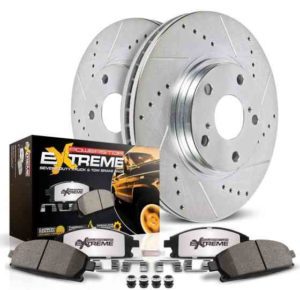 If we talk about the rotors in the package, then we will happy to say that it is drilled and slotted perfectly for maximizing cooling. Other than that, it comes with zinc plated rotors as mentioned previously that ensure the proper protection against rust and corrosion. This kit is a deadly combination of perfect rotors and pads that make riding easy on mountainous roads. The stopping power becomes better due to exclusive carbon-fiber ceramic formulas used by the Power Brake brand making sure you can enjoy the perfect experience without any need to sacrificing drivability in any manner. 
Another thing that we liked greatly about this unit is completely silent operation. It means you won't have to deal with embarrassing braking voices any longer. Besides that, the calipers and brake rotors delivered with the package perform way better than the majority of options available in the market. The reason behind that is proper pressure testing and lubrication performed by the company before delivering the calipers. 
Pros
Maximized protection against corrosion & rust

Give extreme braking performance

Proper heat dissipation

Solid stainless steel hardware kit

Cons
Instructions are a little bit hard to understand

Minor complaints with fitting, but the numbers aren't too much
As the name suggests, this kit is definitely a warrior for buyers who want to enjoy the amazing street driving experience. It offers an extreme level of stopping power that stops the vehicle instantly. The braking power is nearly 20% more when compared with the other brake pads available in the market. It comes with a ceramic hybrid pad that only not offers tremendous thermal stability but also ensures low dust while driving on the vehicle. This kit is highly recommended to riders who drive muscle cars and want to improve their entire braking system.  
The Power Stop brake reviews list can never be completed without mentioning the name of this kit that is reinforced with carbon fibers. The compound attains further strength and offers extreme stopping power without having any effect on the driving experience. The rotors are cast in such a way that it fits perfectly on the brake system with the bolt-on design without asking any modifications. You will also find that the heat dissipation is almost 30% more when compared with the normal brake pads. The rotors are drilled and slotted for maximizing cooling while driving in harsh environments. 
That's not all; there is silver zinc dichromate plating provided on the rotors that look pretty great behind the rim. Its primary purpose is to prevent corrosion and rust excitedly. Overall, we want to tell you that the company has machined all the components carefully for ensuring proper fitting. You will be amazed to find how terrific fitting ability it is, so buying this kit is an excellent investment to make. 
Pros
Delivered with powder coated calipers

Properly drilled and slotted rotors

Hassle-free fitting process

Keeps the dust away

Cons
Packaging needs to be improved
If you are looking to shop for a Power Stop kit that is available at an ultra-affordable price, then we recommend shopping for the KOE5838 kit. It is an exciting option for daily drivers who can't spend too much money. This kit has specially designed components that together result in providing terrific brake performance. It equipped with four rotors that are compatible with the majority of vehicles available to shop. The fitting offered is pretty amazing as you don't need to make even a single modification to the axle or wheel. 
There are very high-quality G3000 grade castings used for making rotors sold in this kit allowing you to use it for daily driven vehicles on American roads. Furthermore, we are very impressed with the casting technology used by the Power Stop brand that has helped in making rotors précised. It is delivered with the stainless steel installation hardware that makes sure installation becomes easier & quicker. You can trust this kit for reliability and performance for sure. 
If we talk about the OE replacement rotors delivered in this package, we will say that they are properly aligned and balanced by the manufacturer. The manufacturer has used true-cast technology for precisely replacing the older system. It is a perfectly created kit having all the necessary components for making the braking of your vehicle wonderful. 
Pros
Easy to replace & install

Equipped with pre-aligned hardware

Resistance against dust with ceramic formula

Fully noise-free operation

Cons
Warping issues after 10,000 miles in some cases

Quality control is a little bit average
The sixth option that our team wants to mention in the article is this brilliant brake kit that gives solid protection against corrosion and rust. It is an incredible set having properly drilled and slotted rotors along with fully powder coated calipers that ensure performance never gets compromised on the road. Additionally, the company delivers it with superb performance carbon-fiber infused ceramic pads that last much longer than expectations. This kit can last much longer when compared with the pads manufactured by other brands.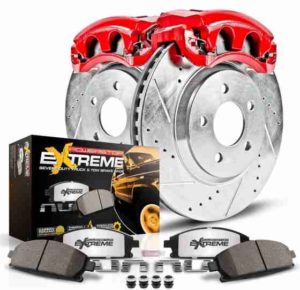 Another reason for positive Power Stop brake reviews about this unit is the very amazing appearance behind the wheels & stocks. The carbon fiber-infused brake pads available in this package are perfect for towing and hauling even on hilly terrains. The complete manufacturing process of this kit is performed in Chicago that ensures authenticity correctly. They have crafted every caliper in the package by providing the latest techniques. You are free to drive through a hilly & mountainous road with a calm mind after installing this superb kit. 
The power stopping offered by this brake is very hard to match even for the top brands in the market. The reason behind that is the manufacturer has worked for boosting the overall brake system of the vehicle instead of just making money. Driving your car will become super smoother with this kit as the company has left no stone unturned for performing their job adequately. Enjoy a comfortable ride without affecting your daily drivability in any manner with this kit. 
Pros
Provide superb drivability

Crafted using carbon fiber ceramic formulas

Keeps the  brake dust-free

Prevents corrosion & rust

Cons
Complaints about missing pieces

A little bit of confusing rebate policy
We have started this post tremendously, and there is no way we are going to end it silently. The Power Stop K2164-36 comes with perfectly designed rotors that the majority of riders look for in the market. They are going to offer the right level of torque brake required by vehicles while driving on the rough terrains. The manufacturer has drilled and slotted the rotors quite wonderfully for providing the right level of heat reduction along with giving perfect stopping power. The people who often needed a quick halting should invest money in this brake kit without thinking even for a second.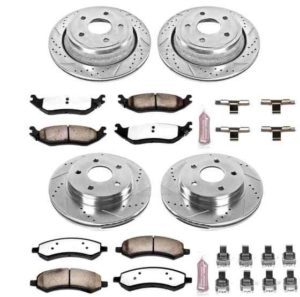 To boost the experience further, the company sells this kit with a high-quality stainless steel hardware set, pin bushings, top-quality lubricant, and many other components for making the braking system amazing. You can buy this kit for the rear axle, front axle, and both axles depending on the requirement. It has a completely dust-free formulation on the pads due to which debris stays away from the brakes. Also, you will find that there is very little noise created by this braking set during the operation. The shims are made using high-quality stainless steel with proper zinc plating for adding extra durability to the braking system. 
It can fits on a great variety of vehicles without causing any trouble that ranges from Dodge Durango to Chrysler Aspen and Ram 1500. The fitting system of this unit is quite amazing and doesn't ask the users to perform any modifications. The readers must understand that this unit is a wonderful brake kit that they can buy for having a comfortable riding experience. It has passed tons of tests that prove how authentic and desirable quality is. 
Pros
Reduces dust accumulation up to 30%

Capable of handling heavy loads

Incredible heat dissipation

Compatible with a variety of vehicles

Cons
Rivets in the pad are a little bit unaligned

Caliper takes time to adjust
Buying Guide- How we have tested the best Power Stop brakes?
Brake is the most important part of a vehicle, and that's why it is strongly suggested to choose them with a cautious mind. The majority of people don't have much information about making the right choice when it comes to braking kit. It results in missing the majority of features that hurt the entire braking system later. We want our users not to end up making the same mistake, and that's why we performed the testing process carefully. Have a look at the factors that affect our decision mentioned below:
Brake Pad Material
The most significant thing that we have cared about while finalizing the models in the list is what kind of material used for making the pad. As we all know, they are made using a variety of materials like low metallic, ceramic, carbon-fiber ceramic, and semi-metallic among others. All these materials come with a certain set of benefits that needs to be understood. 
However, our team believes the ones made from the carbon fiber ceramic are the best, and that's why you will see the majority of models added in the list are made using the ceramic material for ensuring authenticity. 
Anti-Corrosion Properties
The next thing we put a great emphasis on is what kind of anti-corrosion properties possessed by components in the brake kit. It is quite common that rust or corrosion attack the brake system anytime, so we should buy the kit that knows how to deal with it.  
Although all the brakes produced by the Power Stop brand come with solid anti-corrosion properties, the ones mentioned in this post after the brief testing phase are the most amazing. The chances you would have to deal with corrosion & rust after installing one of these kits is almost zero. 
Rotor Material
The next thing that a handful of people usually avoid checking is the material used for crafting rotors. Every brand claims that their rotors are built to last long and made using top-quality material, but only brands like Power Stop has made products as per the expectations. You can see every brake kit they sell has top-quality rotors that make them one of the top brands in this industry.
The quality varies slightly from one model to another, and that's why our team has succeeded in finding the ones that can stand better than the others. 
Rotor Pattern
The quality of the rotor's material isn't the only thing that you need to consider while buying a kit. We all know that the variety of patterns available on the rotors is quite long. Some come with slots or drilled slots, whereas others have both of them. 
Our team strongly suggests the buyers invest in rotors that have both drilling and slotted adequately. It will help in keeping the rotor cool and allow you to enjoy driving even in extreme temperatures. 
Number of Accessories
There are many instances where brands claim to have all the accessories in the kit, but they don't have it in reality. However, there are very few instances when you have to deal with the same issue with the kits sold by Power Stop Company. 
Our team has tested & researched several brake kits to find the ones that have the most number of accessories. We tried to provide complete packages that ensure you don't have to shop for anything extra. Only one or two units miss a single accessory from the options mentioned above. Other than that, all the options are the perfect option to buy from the Power Stop brand.  
Frequently Asked Questions- Power Stop Brake Reviews
1. How many months a Power Stop brake usually last?
According to the company's claim, their brakes last nearly three years or 36,000 miles whichever is earlier. However, it is all up to the way you use and maintain them. There is a solid chance that it may surpass this time with proper care, but we suggest following the company's recommendation as your safety is involved in it. 
2. Why towing trucks need breaks with more power?
It is a complete no brainer that we need to install breaks with more power in tow trucks. The reason behind that is they need better stopping power along with noise-free braking. There are many such models manufactured by the Power Stop brand for towing trucks. 
3. Where are Power Stop brakes manufactured?
There are several plants owned by the company where they manufacture these brakes. A significant portion of them is made in Bedford Park, Illinois. This facility has all the latest technologies that allow the company to produce terrific brake kits. 
4. Is it a good idea to turn the Power Stop rotors?
If you are thinking of turning the rotors, then we want you to eliminate this thought as it is a terrible idea. Even the company doesn't recommend the buyers to perform this thing. However, you can think about machining them with the help of very light cuts and a sharp bit. 
5. How much warranty Power Stop provides?
 The warranty offered by the Power Stop brand varies from one kit to another that needs to be checked on the manual. However, the majority of them come with three years or 3K miles warranty, so understand it before finalizing the model. 
Conclusion
Power Stop is a very reputed brand that has invented tons of amazing brake kits over the years. What do you believe about the information we have provided regarding Power Stop brake reviews? Our team has tested all before adding them to this list for ensuring that you can make a choice easily. If there is a query in your mind regarding any of these models or other products from the Power Stop brand, please write about it in the comment section.
You may also check: