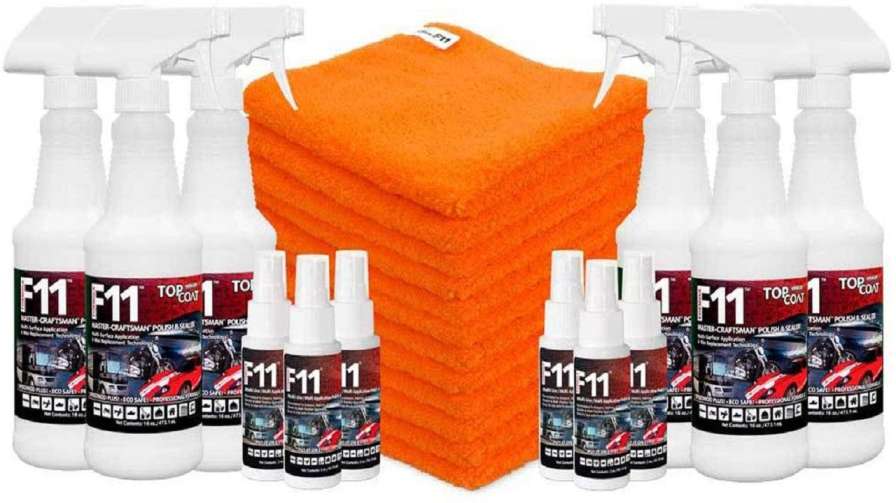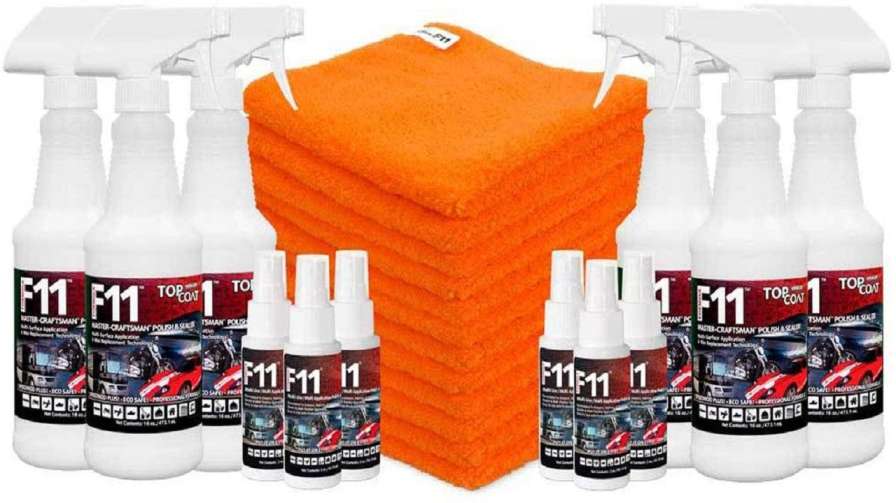 Are you one of those people who always prefer to keep their cars in a new-like condition? If yes, then you will certainly understand what kind of role is played by the polishing for the outer body. Many options available in the market for this purpose, but products like F11 are very less. The increasing popularity of this product has increased the demands for the Top Coat F11 review that we are definitely going to cover for the readers. We agree with the fact that the tremendous feeling offered by a shiny and spotless car is hard to match in other cases. 
Still, you can find many folks who don't understand this thing that hurts in the long run. However, our team is happy to know you aren't one of them, and that's why you have arrived at this platform for getting information about Top Coat F11. Here, we are going to discuss this product in detail, along with the pros and cons to ensure all your doubts get cleared. Let's begin this magnificent journey now!
What exactly is Top Coat F11?
 The Top Coat F11 is an American polish that professionally designed for protecting the vehicle's surface from contaminants and dust. The main motive of the manufacturer behind creating this product is to provide the paint on the vehicle adequately. In addition to cars, this multipurpose polish can work on many other places like boats, kitchen appliances, two-wheelers, and bikes among others. 
Unlike other car polishes, it is a water-based sealant that ensures even the smallest nook gets adequately filled. Additionally, there is an extended level of protection provided to the surface paint against the harmful UV light. We can say that it is a great option for individuals looking to give long term protection to their car. This eco-friendly polish and sealant help in beautifying the surface quite brilliantly. 
Another thing that we acknowledged about this polish is its ability to last quite longer than the majority of options available in the market. It means the shine that you are going to have with this sealant will stay the same for an extended period of time. Investing in this high-performance sealant will let you give a variety of benefits to your vehicle that range from cleaning to protecting as well as maintaining its finish. 
What are the main features of Top Coat F11 Polish?
If you believe that this Top Coat F11 review is just about tiny information, then you are completely wrong. We are on the mission to educate the readers in the best possible manner for ensuring that they get access to even the smallest information. Have a look at the major features about the Top Coat F11 polish below:
Extended Level Protection
The most prominent feature of this car polish is its ability to provide extremely long-lasting protection. It is something that the majority of options available in the market fail to provide. As we all know, the car loses its charm due to things like rain, harmful UV rays, and grime. 
However, it won't be the issue after applying this polish and sealant because it will handle things for you. That's not all, the cleaning of the car also becomes very easier with the availability of this sealant. The reason behind that is sleek and non-sticky nature due to which the dust particles and mud doesn't cling on the vehicle. 
Glossy Finish
Without any doubt, the biggest specialty of this car polish is the glossy appearance that everyone seeks for their vehicle. It has an enhanced level formula using which you can appeal to any surface better for sure. 
There is an incredible depth of image and color provided by this brilliantly crafted polish that will make the car look like glass. Another reason due to which it offers this type of finish is its ability to minimize the effects caused by acid rain and bug splatter. 
Eco-friendly nature
Another considerable feature of the F11 polish is its eco-friendly nature. There are no harmful contaminants used in the manufacturing of this polish making it safe for the kids, pets, and environment. You won't have to worry about any sort of breathing issues in any manner.
On top of that, you will be succeeded in providing the right appearance to your vehicle without affecting the environment negatively. The multi-layer protection you enjoy is free from any kind of harmful effects at all. 
Better Withstanding Power
The next feature that makes it worthy of investing money in the Top Coat F11 is its ability to deal with high temperatures superbly. It is a non-flammable polish that also used on the engine and even car's hood adequately. 
The improved levels of coating characteristics present in this polish make it easy to work with the cars having a dark color. Additionally, it can quickly hide the swirl marks and minor scratches on the car. 
Easy to apply Process
The majority of guys hate following any complicated and boring process to prepare the polish for their car. If you are one of them, then the F11 is the most suitable choice to make as it doesn't ask for any difficult creating process. The buyers don't have to add any sort of chemicals while creating this sealant. 
The only thing that they need is a little bit of accuracy and patience while applying the polish. In simple words, you need to follow a straightforward process for giving the new like look to your car with this polish. 
Steps to DIY Car Polish  
Do you want to restore the shine of your car without visiting the service centre? Many people believe that they can't do this job themselves and will need the help of a professional. However, it isn't necessary to visit the workshop every time for performing polishing work. You need to follow the below-mentioned steps carefully, and everything will become easier for sure.
Step 1: Washing the Car
The first thing to do is washing the car using quality soap. We suggest rubbing the complete area of the vehicle firmly followed by rinsing carefully. It will make sure the soap doesn't leave marks on the body. 
Step 2: Removing Bug Stains
The next step you needed to perform is identifying the bug stains on any part of the vehicle. You use a bug stain remover and then rub it with a heavy duty tower to eliminate these stains. 
Step 3: Drying
Once you complete the second step, we suggest giving a final rise to the complete vehicle using a brush. It will eliminate the stain remover, rubbing compound or anything left by the soaps. Dry up the full vehicle using a clean microfiber cloth. 
Step 4: Applying Polish
It is the most important step that should be performed precisely. You should begin by applying the wax or polish using a polisher or a soft pad, whatever suits you the best. Polish only a single section at a time. A single section should be polished for at least 5 minutes for getting the desired results. 
Step 5: Rinsing & Drying
The final thing you need to do is rinsing the complete vehicle again once the polishing gets completed. You can scrub it lightly using the brush for eliminating the remaining polis on the car. After completing rinsing, you should pick up a microfiber cloth and drying the complete vehicle. 
Once you perform all these steps, you are done, and good go on a ride.
What are the advantages and disadvantages of Top Coat F11?
There is no way that the Top Coat F11 review will complete without mentioning what kind of benefits and negative effects it brings to the buyers. It can turn out to be very useful for the buyers while making the final decision. Have a look at the advantages of Top Coat F11 below:
Superb protection against impurities
The level of protection offered by this polish is hard to match for other options available in the market. It stays on the surface for much longer time against dust, scratches, etc. 
Extremely easy to use
There is no need for any kind of mechanical buffing required while using this polish. It means you can use polish quite easily without any problem. 
Multi-Surface Application
Without any doubt, it is one of the most convincing benefits that you can enjoy by buying the Top Coat F11. You can apply it to a variety of places other than cars that include boat, engine, bike, and even kitchen appliances. 
Protection from natural things
There are very few polishes like F11 that offer protection from things like acid rain and bird droppings. Additionally, it can keep things like swirls and spider webs away from the surface. 
Non-Flammable Finish
This car polish is capable of withstanding high temperatures and harsh UV rays quite easily. Its inflammable nature makes sure you can use on engines as there is no chance of fire.
After the main benefits, we believe it is now to talk about the disadvantages of F11 that is mentioned in detail below:
Streaks
There are few times when this polish leaves streaks when applied on the glass. However, the chances of such instances are quite rare for most of the buyers.
Not much useful on rubber parts
There are very few useful results shown by this polish on the rubber parts in terms of shine. So, it is better to avoid using it on the rubber components. 
Top Coat F11 Review- Frequently Asked Questions
1. Is Top Coat F11 as good as advertised?
As professional car experts, we can happily say that the Top Coat F11 can give you much better returns than you can think. It is one of the most amazing sealants that you can purchase from the present automatable market. The tremendous set of features available makes it perfect for both professional and domestic garages. 
2. What should be the frequency of using F11?
There is no thumb rule for the number of times you can provide such a coating on your car. It is all up to you on how often and what amount of polish you need to use. However, it is strongly suggested that you should apply it at least once in 3 months to allow the polish to work effectively. 
3. Will F11 polish work on the car's windshield?
Yes, it is entirely safe to use the F11 on all the components that even made from plastic. There won't be any kind of yellowing caused by this polish in any manner on such components. Moreover, you can even apply F11 on aviation windshields, boat glasses, motorcycle windshields, and many more. 
4. What exactly included in the F11 top coat?
There are plenty of things delivered with the F11 topcoat that include a top-quality microfiber towel along with the main polish. It makes sure you don't have to buy anything separately after buying this kit. 
5. What kind of results do F11 offer on matte paint?
Please understand that it is the biggest specialty of F11 that it can work on all types of surfaces that range from plastic to rubber and even matte paint. It lasts anywhere between 3 & 6 months and capable of repealing all the things. 
6. Is F11 polish worthy of buying?
Yes, we will say it is entirely worth spending money on F11 because of the tremendous features it offers. It is a significant investment that you make for making your car shine always like a new one. 
Conclusion
After creating this complete post, we have concluded that the F11 polish is a magnificent choice that buyers can make for providing desired protection to their car. It comes with all the essential properties using which your vehicle will look like the new one. 
Our team has covered every tiniest detail in this Top Coat F11 review with a motive to help the community in making the right choice. If there are still doubts in your mind regarding this polish, please feel free to write in the comment section. An expert from our team will answer it at the earliest. 
You may also check: